Summer 2020: July 6 – July 24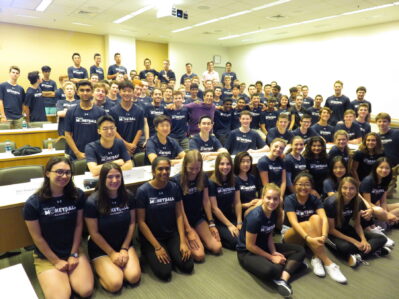 Sponsored by the Wharton Sports Analytics and Business Initiative (WSABI), the Wharton Moneyball Academy is a summer program that provides an opportunity for talented rising high school juniors and seniors to study sports analytics at the Wharton School of the University of Pennsylvania. This program focuses on using data to make deep discoveries in sports with a focus on becoming a data driven decision maker. Instruction will focus on fundamentals of statistical thinking, real applications employed by statistics professionals in sports analytics and an introduction to statistical programming languages. In addition to learning statistical reasoning and key data analysis skills, students will be primed to be a leader in an increasingly data driven economy. Topics include introductory statistics (including graphical and numerical summaries of data), basic probability theory, statistical reasoning and regression analysis by examining sports stats.
This program is ideal for students with a strong background in math and a love of sports. An interest in computer programming is strongly recommended but no specific background is necessary.
Priority Application Deadline: January 22, 2020
Click here for information about WSBI's sports business summer program, the Wharton Sports Business Academy.
The Campus Experience
Living and working with students from the USA and around the world, you will gain a unique perspective on college life. Participants live in Penn's dorms in the University City District; walking distance from dozens of restaurants, shops, recreational facilities and entertainment venues. After class, you can enjoy your choice of on and off-campus activities organized by Summer Discovery residential staff. Learn more about the residential experience. View program fees.
The Academic Experience
Taught by Professor Adi Wyner and guest faculty, the Moneyball core curriculum goes beyond what students will learn in an AP Statistics course in order to teach students how to apply advanced statistical concepts to sports analytics. Moneyball covers much of Wharton's Stat 101 and Stat 470 courses, as well as pieces of Stat 102, 430, and 471. In addition, students will learn to read and write code in R, the advanced statistical programming language used by professional statisticians. By the end of the course, students will be able to understand and perform many of the sports analyses typically seen in FiveThirtyEight, Fangraphs, or Hardball Times articles. Furthermore, Moneyball offers the opportunity to learn from and network with other analytically minded people, which can prove extremely valuable as students continue in the sports business industry.
Application
The application for summer 2020 is now open.