We continue to connect with Wharton alumni to share their inspiring career stories in the sports industry. This week, Wharton Sports Analytics and Business Initiative (WSABI) had the opportunity to speak with Jeffrey Seltzer, Managing Partner at Pierce Yates Ventures and W'78. Jeff was the 2019 recipient of the Penn Alumni Award of Merit.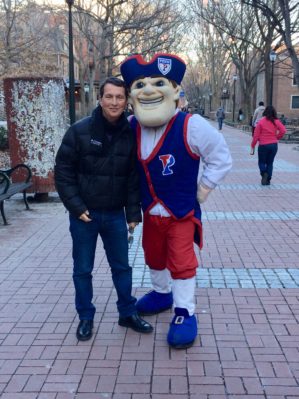 Please describe your path into sports industry and reasons behind your choice.
I am a die hard hockey fan and do not follow any other sports. That said, I have always been interested in the business of sports. I was able to use my local network to get appointed to the Nassau County (Long Island) Sports Commission where I eventually became vice chairman. That gave me exposure to things like event sponsorship (Goodwill Games, Empire Games), youth sports and community building as well as the local professional sports teams. Later on, I was appointed chairman of the Nassau County Industrial Development Agency which gave us a role in arena development and using sports as an economic development tool. I was the deputy chairman of CIBC World Markets USA and in that that role I set up co-branding programs with the Women's Sports Foundation, the New York Rangers and Wayne Gretzky. I now am an early stage investor in fintech and sports and have invested in the gaming, sports betting and esports spaces. Each of these positions gave me a different skill set and, hopefully, I am continuing to evolve.
If you were to give an advice to current students aiming to enter the sports business, what would it be?
The sports business is no different than any other such as fashion, finance, media, biotech etc. in that these are business sectors. You may be interested in the sports sector but you need to have a functional focus such as marketing, finance, operations, content, analytics, etc. So you shouldn't say I want to work in sports – you need to start by saying you want to work in finance or whatever function in sports.
Skills / personal traits that you found most useful within the sports industry.
You need the same skills and traits in sports as you need in any other industry. Hard work, dedication and fun to be with.
Please talk about some of the challenges facing current students planning their career in sports business.
The answer would be different a month or so ago. Sports is now one of the hardest hit industries in the COVID-19 crisis. It will come back but probably slower than most people would hope for. This pause is a good time to start your networking with people in the industry. There are lots of Wharton and Penn grads in the sports business. Reach out to them and ask if you can have a few minutes of their time. A strong network is critical for success in any industry but especially the sports business.
What role did Wharton and Wharton network play in your career?
Wharton gave me a functional tool set and confidence. It is up to you to take it from there and nothing beats experience as the vast bulk of what you do every day will not be things you learned in school. The Wharton and Penn networks are great (they got me started in early stage tech investing) and I will always accept a Linked In invitation from an alum. 
Do you see more synergies between traditional sports and esports coming into light as audience looks for from-home experiences or other trends emerging in viewership experiences?
One of the most interesting developments of the COVID-19 pause is that professional sports are using simulations and other gaming titles to fill in the programming holes. A recent NASCAR simulation broadcast on Fox Sports attracted over 900,000 viewers. Fan engagement like this is very valuable and we will see more for as long as the COVID-19 crisis continues.