Wharton Sports Analytics and Business Initiative (WSABI) had a chance to connect with Wharton's recent alumni, W'19 Kelly Schrader and Associate at the National Basketball Association (NBA). In her interview, Kelly talks about what helped her break into sports business, shares advice to current students, and her view on esports.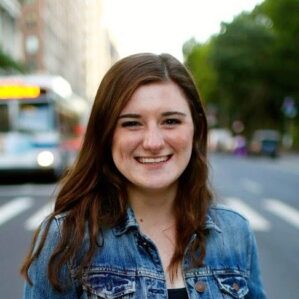 Please describe your path into sports industry and reasons behind your choice.
The Wharton Sports Business Academy was integral to my path into the sports industry. I grew up playing sports and loving all the elements of culture that went along with that, but after attending WSBA as a high-school senior, I started to seriously consider sports as a career. After arriving at Wharton, I stayed connected to the industry through working for the Wharton Sports Analytics and Business Initiative. I concentrated in Marketing and Operations/Information/Decisions and though I was passionate about sports, I also explored a lot of other interests throughout college. I spent summers teaching in Chile and South Africa, working at the Wharton Sports Business Academy, as well as interning on the Anheuser-Busch Music and Innovation team. These were all incredible experiences that rounded out my perspective and ability to apply my skills and knowledge in vastly different ways. I ultimately decided to launch my career through the NBA's rotational program in order to learn from and contribute to multiple arenas of the industry I have always loved.
If you were to give an advice to current students aiming to enter the sports business, what would it be?
Transferable experiences are everything! Take what you know and apply it to sports. To help with that, take every opportunity you can to get involved and learn about the industry. If there is a panel, go to it. If there is a networking opportunity, be there. If you can reach out to alumni in the industry, do it! Learning how other people have carved paths through sports has been important for me in figuring out how my non-sports-related experiences and skills can be applied to this industry to create value wherever I'm at.
Skills / personal traits that you found most useful within the sports industry.
Coachability! This is something I learned as a young athlete that has served me well throughout my life. Especially entering the industry right out of college, there is so much to learn, so adapting quickly has been key.
Please talk about some of the challenges facing current students planning their career in sports business.
A lot of sports organizations have pretty limited roles for recent graduates. Added to that, especially within the Penn recruiting culture, the sports hiring timeline can be very intimidating. Spring/summer recruiting for summer/fall start dates is outside the norm of the school at large, which presents students with the challenge of weighing job options that might not have even opened their applications yet. However, in my opinion, getting to work in this industry and absolutely love what you do is well worth the wait during senior year.
What role did Wharton and Wharton network play in your career?
The skills and network that I gained at Wharton have been invaluable to my career, starting as early as high school where I got exposure to the industry through WSBA. I am so grateful to the alumni community and incredible professors for not only supporting me while I was in school, but continuing to be a strong network after graduation as I entered the industry. Special shout-out to the Wharton and Penn grads at the NBA who have welcomed me so well!
Do you see more synergies between traditional sports and esports coming into light as audience looks for from-home experiences or other trends emerging in viewership experiences?
Yes! I just finished a rotation with the NBA 2K League (which I absolutely loved) and was able to see firsthand how those synergies are being formed. Especially with younger fans, who already connect with their favorite sports leagues through video games, there is a natural proclivity towards virtual competitive experiences. As fans continue to consume more and more content across the board, I think we will see the rise of more traditional sports leagues developing, partnering with, or borrowing best practices from esports leagues in order to keep up with the volume demand of high-quality content.
Please talk about marketing of the recent NBA 2K League Tournament on Twitch.
The 2KL Three for All Showdown (as our tournament was named) was very much organically marketed. The tournament consisted of 2 brackets over the course of a week. The first 3 days were a fan-only tournament, where fans could sign up to compete against each other for an opportunity to compete in the League bracket against their favorite 2KL players and influencers. Because it was the opportunity to interact with the 2KL brand and test skills against the best 2K players in the world, signups took off on their own, which organically raised awareness and tune in for the rest of the tournament. In addition, because influencers were included in the League portion of the bracket, they helped significantly to raise awareness among their followers who are already esports fans.
Do you observe significant changes in the strategy at the NBA, NBA2K, and NBA Teams as a result of the COVID-19 as it relates to gaming?
There has definitely been an increased focus. I think everyone in the sports community is jumping at esports opportunities at the moment which, in my opinion, has only accelerated the timeline of traditional sports across the board turning more attention to esports. As esports in general have been doing so well in the absence of traditional sports, I think they will become additive, rather than competitive, to leagues and teams even when we return to traditional sports stadiums and arenas. Once the sports community is able to engage with fans on new and unique levels, as they have recently, I don't think many will let that go.
Do you anticipate increased need in data scientists, data analytics professionals as a result of potential change in viewership experiences?
Across the board in sports, there is an increasing need for data science and analytics professionals, and esports only adds to this need. As teams and leagues start to focus on not only branching into esports, but on taking it one step further and adopting shared best practices across their esports and traditional sports entities, data becomes a more important vehicle to understand the connection with so many fans. In addition, esports broadcasts generate a ton of data and the industry as a whole is still figuring out best reporting practices and how to effectively use it all in order to enhance the fan experience.
Bonus question: should Wharton students check out the NBA 2K League?
Absolutely!! The 2K League is an amazing foray by the NBA into esports. The competition, player personalities, and virtual environment are world class and one of a kind. Even if you aren't "into esports" there is an incredible amount to learn on all sides of business and league operations from watching and understanding this growing esports league. Especially as esports accelerate their growth in the US, it's super important to have that basis of understanding and appreciation. Find us on Twitter, Instagram (both @nba2kleague) and at https://2kleague.nba.com/.