Check out this article by John George in Philadelphia Business Journal quoting entrepreneur and 76ers minority owner Michael Rubin at the Wharton Sports Business Summit.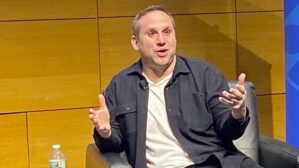 An entrepreneur since before he was a teenager, Michael Rubin went on to launch several multibillion-dollar e-commerce companies including GSI Commerce — a King of Prussia-based business he sold to eBay for $2.4 billion in 2011.
Today, Rubin is majority owner and CEO of Conshohocken-based Kynetic — his holding company for several e-commerce companies including Fanatics, an online retailer of sports apparel and products. He also holds a minority stake of the Philadelphia 76ers and is a criminal justice reform advocate.
Rubin, who grew up in Lafayette Hill, was in Philadelphia Friday morning as the keynote speaker for the third annual student-organized Wharton Sports Business Summit.
He is a sampling of what he had to say:
"If you can take something you are passionate about and turn it into a business, there's nothing better."
Rubin discussing how as a kid he wasn't very good at most sports, but he loved to ski. That led him to start a ski tune-up shop in his parents basement when he was 12, and open a retail ski shop when he was 14.
"I went for six weeks."
Rubin explaining how he amassed huge debts from some bad decisions, including buying a Porsche while still a teenager. He worked out a deal to pay off creditors the hundred of thousands of dollars he owed, but needed to borrow $38,000 from his father. His father loaned him the money on the condition he went to college. Rubin said he attended Villanova University for six weeks before dropping out to devote himself to entrepreneurial activities that would lead to founding GSI Commerce.
"I thought in 2011 that Amazon and (Chinese online commerce company) Alibaba we're going to kill everybody…. The way we're going to compete against them was to be completely different."
Rubin discussed why he decided to buy back GSI Commerce's Fanatics sports merchandising business — the official online store for the MLB, NHL, NBA, NASCAR and dozens of individual pro and college teams — and two other business units from eBay for about $500 million. He said the company has differentiated itself and thrived by designing its own products that people can't get anywhere else.
"We are in an incredibly competitive business. I go to bed incredibly paranoid about the competition."
Rubin when asked about his biggest challenge as chairman of Fanatics and CEO of Kynetic.
"Relationships are everything. If you build great relationships you can make a lot of great things happen."
Rubin on what advice he has for students interested in the sports business field. His other advice to students was, "don't be afraid to fail — from failure comes growth" and "get great people around you."
"It's something I would consider if the right opportunity presented itself. Do I go to bed at night thinking about it? No."
Rubin on whether he would be interested in being the majority owner of a professional sports team.
"For me, brought up as a white middle class kid in suburban Philadelphia you don't think the (stuff) that happened to Meek could possibly happen."
Rubin discussing how the experiences his friend rapper Meek Mill encountered with the court system spurred him first to work to get Mill out of prison after he was jailed for a technical parole violation. He said that led him to become an advocate for criminal justice reform, and help launch the Reform Alliance. The Reform Alliance has set goals of changing probation laws and freeing at least a million people who are unjustly stuck in the criminal justice system.