Check out this article by Erin Arvelund in The Philadelphia Inquirer on Michael Rubin and his speech at the Wharton Sports Business Summit.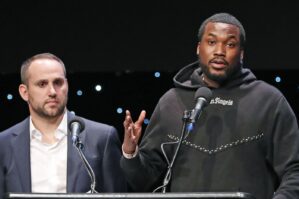 When Michael Rubin was still in high school, he opened a ski shop near where he grew up in Lafayette Hill. And within two years, the now-billionaire owner of Fanatics and minority partner in the 76ers was about to file for bankruptcy — at age 16.
"I tell that story to show that growth comes from failure," he said at at the Wharton School's Sports Business Summit 2019 on Friday.
Rubin, now 47, said he hated high school. He was the son of a veterinarian and a psychologist, but "I was a terrible athlete. The only sport I was good at was skiing."
So he opened a ski shop and was pulling in $125,000 in revenue his first year of high school. Then, he said, he got cocky.
"I had $200,000 in bills and $100,000 in inventory, and a Porsche I bought when I turned 16," but that year, "there was no snow. I had to hire a bankruptcy attorney."
The lawyer told Rubin he wasn't technically old enough to have to file for bankruptcy, so he ended up settling with creditors for $38,000.
He had promised his father that he would try college, but Rubin dropped out of Villanova University after six weeks and went into the resale-closeouts business, starting with athletic footwear and expanding into apparel. The business grew to $100 million in revenues and $10 million in net profits by the time he was 21.
By 1998, Rubin began hearing about the internet, but dismissed it. "I knew nothing about it, and I thought, 'Screw these internet people, they lose a lot of money.' Then I asked some of my biggest accounts and vendors, like Sports Authority, and they told me e-commerce was a big opportunity. They said, 'You're young, you're 25, can you solve this problem for us?' So I started GSI Commerce."
GSI began to do marketing and e-commerce for retailers. He sold it to eBay in 2011 for $2.4 billion.
To compete with Amazon, "eBay bought us to get brands on their platform. But they weren't interested in the Fanatics business, which we bought back for $300 million," he said.
"The original vision of the business was Zappos for licensed sports. I was terrified, however, that Amazon and Alibaba [in China] would kill everyone. So we radically changed the vision into something called v-commerce, which is vertically integrated commerce," similar to Zara and H&M, he said. Fanatics designs, manufactures, and sells athletic apparel directly to consumers via the internet and smartphones.,
Conshohocken-based Fanatics is expected to post annual revenue of $3.2 billion next year, he said.
His biggest challenge today? "I'm paranoid about competition. I would be stupid and a bad business person if I didn't worry."
Rubin also discussed his awakening to how white and black Americans are treated differently by the criminal justice system. He is now known nationally for his advocacy of the rapper Meek Mill, who was freed from prison on parole violation charges after Rubin and other defenders hired a legal, investigative, and public relations team, and has gone on to help lead Reform Alliance, a criminal justice advocacy group.
"Growing up a middle-class kid in Philadelphia, I went to court [with Mill] thinking he'd get a fair court hearing. Instead, the judge sent him to prison for two to four years," Rubin said. "It changed my mind from 'I got to help my buddy get out of jail' to criminal justice reform" in Philadelphia.
"I was unaware of how the country really works. There's America, and then there's black America. I used to say to Meek, 'Why are you whining?' But he really opened my eyes."
Mill "also opened my eyes to trends in retail, like Fashion Nova," an online retailer popular with millennials, he said. "This kid built that business based on social media influencers, and I really should have known about it. Even my 13-year old daughter knew about it. So we learn from each other."
Advice for MBAs and others interested in sports business:
"At 47, I'm in the middle of my life. I'm grateful I got to do some great things.
"Relationships are everything. Smart people miss that a lot."
Also, "people are scared to fail. You're going to fail. Failing is part of growing."
Finally, "have good people and great teams. The business [of sports] is a great industry that has a huge impact on society. Sports brings people together."