Check out this article by John George in Philadelphia Business Journal quoting professor emeritus with Wharton Ken Shropshire and looking at five retired Philadelphia athletes who have stayed in the region at a variety of businesses where they work out of the public spotlight.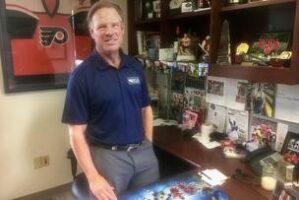 Brian Propp in his office.
When the time comes for professional athletes to hang up their cleats ­— or sneakers, or skates — many former players stay connected to their sport by coaching, moving into the front office or becoming a broadcaster.
Local examples aren't hard to find.
Larry Bowa and Bobby Clarke spent decades with the Philadelphia Phillies and Flyers, respectively, first as players and later as a coach, manager or general manager. Mike Quick played his entire nine-year National Football League career with the Philadelphia Eagles, and now has had an even longer career as a game-day color analyst on the radio since 1998.
Other athletes step away from their sports and enter the business world.
Some examples: Former Phillies center fielder Gary Maddox founded World Wide Concessions, a promotional products company, and later became majority owner and CEO of A. Pomerantz & Co., a Philadelphia-based office furniture company. Former Eagles quarterback Ron Jaworski works for ESPN as a football commentator, but has also built a growing business — Ron Jaworski Golf — that operates six golf courses in Pennsylvania and New Jersey. Former Phillies first baseman Ryan Howard and former Eagles running back Brian Westbrook each work in sports broadcasting, but both have also entered the venture capital arena with Conshohocken-based SeventySix Capital.
Some players don't wait until they retire to get involved in the business community. Two years ago Eagles safety Malcolm Jenkins opened a designer menswear store called Damari Savile on Walnut Street.
Ken Shropshire has studied athletes in the workplace in his roles as professor emeritus with the University of Pennsylvania's Wharton School, CEO of the Global Sports Institute and professor of global sport at Arizona State University.
"It used to be, when athletes didn't make as much money, they would work in the off-season at a sporting goods store or a gas station," Shropshire said. "Later on, some would get involved in real estate or work as a stockbroker. Now (with salaries for pro athletes soaring), there's not as much of a need to work ­— but there is a need to find something to do with the next 30 years of their lives."
Shrosphire said some believe retired athletes make good business managers and owners because they have to display leadership and grit on the playing field. "What we see is that's not necessarily the case," he said. "Everybody is different. What [retired athletes] need to understand is it they don't have to decide right away. It's okay to take a journey and figure it out along the way."
What follows is a look at five retired Philadelphia athletes who have stayed in the region at a variety of businesses where they work out of the public spotlight.
Former Philadelphia Eagles wide receiver Jason Avant began to give serious thought to his career after football when he was in his seventh NFL season.
"The NFL is all about youth," Avant said. "As you get older, you begin to see guys who are not as good get opportunities over guys who are better because they have a longer shelf life and their contracts are smaller. It's a business. It's a numbers game.… It can be brutal."
Avant, who retired in 2015, now owns three Launch franchises, which feature trampolines and other forms of entertainment for kids. Avant, who graduated from the University of Michigan in three years, said he always wanted to own his own business.
His inspiration for a trampoline park came during a family trip.
"I'd take my daughters everywhere, anywhere with amusements — whether it's Dave & Buster's or Disney World or some random 'fun-plex'," he said. "We'd go anywhere. If I saw something that looked cool or fun, we'd go do it during the summer."
Intrigued by a visit to an indoor trampoline park. Avant, during his seventh NFL season arranged an opportunity to shadow the people running one so he could learn about the business.
Avant opened his first Launch franchise in Deptford in 2017 and later added two more franchises in Delran, N.J., and Newark, Del.
While studying the amusement industry, Avant said, he learned most entertainment venues — be it a bowling alley, skating rink or trampoline park — have a shelf life.
"So I didn't come into the business saying I want a trampoline park," he said. "I came in saying how can I make this better. I know single-attraction amusements don't last. That's why we have arcade games and rock walls and laser tag and virtual reality. We have all that stuff in here. We are constantly evolving. We are in the 'creating memories' business."
Avant, who still stays connected to his sport with part-time television and radio gigs on NBC Sports Philadelphia and 97.5 the Fanatic, said several skills he picked up playing in the NFL have translated to the business world.
"One is organization," he said. "Everything about the NFL is meticulously planned. That is how it is in the business world. You have to have a plan and a system in place for you to meet your goals. The other thing is hard work. There are things I don't know about this business. In those areas, I'll make it up with hard work."
Playing football has also taught him to relate to people from a variety of different backgrounds. "You learn how to problem-solve and how to get along with people and work through issues," he said.
Larry Christenson
Larry Christenson said when he was pitching for the Phillies in the 1970s, when baseball players were making a lot less money than they do today, few professional athletes gave much thought to what they were going to do after they hung up their spikes.
"Nobody was prepared to leave the sport and had a plan," said Christenson, who spent 11 seasons in the Major Leagues — all with the Phillies. "I was no different than anybody else. I had no idea what I was going to do. I was only 29 when my arm fell apart."
Christenson said his only teammate who prepared for work after his playing career was catcher Tim McCarver, who wanted to go to the broadcast booth and was always preparing and working on his vocabulary.
After injuries cut short his career, Christenson eventually found his way to the financial industry and today is president of Christenson Investment Partners, a Conshohocken-based firm he co-founded in 2004.
He was fortunate in that he didn't have to make any hasty second-career decisions."I had enough money for a while," he said. "I was single and I saved and I invested well. I didn't blow my money on material things."
Christenson was part owner of a restaurant in Cherry Hill and toyed with the idea of opening his own place in Washington state, where he returned after retiring.
"We would serve bison burgers and display sports memorabilia," he said. "Thank God I didn't do it. I already had the one restaurant (in Cherry Hill) that wasn't doing well."
A chance meeting with a stockbroker led to some lengthy discussions about the brokerage businesses. Intrigued, Christenson got his license and went to work for a brokerage house in Everett, Wash.
"The one issue was in Washington the markets open at 6:30 a.m.," he said. "That means you really have to be in your office by 5:30 a.m. As a baseball player I was used to sleeping in. I had to change a lot."
A short time later friends in the industry suggested he move back to the Philadelphia region, which to Christenson made a lot of sense because he knew a lot of people in the area. "That was the magnet that drew me back here," he said.
Christenson said his athletic career made him appreciate the importance of hard work, which he needed to apply for his second career.
"I studied and learned, stuck with it and made it work," her said. "Now I've been in the investment business for more than 30 years … I'm 64 and I love what I do."
Christenson wasn't, however, enamored with the brokerage business, so he explored other investment industry opportunities. "I made a pact with myself that when I got into this business in a heavy way, I would never deal with high-net-worth individuals or friends to use their money for my profit," he said. "I only wanted to deal with the institutional side, with big pension funds or groups with large pools of assets."
Christenson shifted his career to the investment consulting side, where he met and worked for Jim Hamilton, who served as a mentor teaching him the ins and outs of the consulting side.
"I am so grateful to him," Christenson said. "He was tough and he still is. That guy gave me a chance and taught all of us to try to be perfect and do the right thing and go out there and go hard and be successful."
Christenson further diversified when he started Christenson Investment Partners, a third-party marketing firm that represents a variety of funds that it recommends to clients. "We don't manage funds," he said. "We represent managers as an extension of their marketing."
Being a retired athlete may have opened doors for him, Christenson said, but it also was a detriment at times.
"The biggest hurdle in my early days is having people ask, 'Why do we want to do business with this guy just because he used to play baseball?' I got that a lot. It was a hurdle. I had to build relationships and work hard to gain people's trust. I've been successful, but I worked my butt off. I have a second career that is very rewarding."
Former Philadelphia Flyers left winger Brian Propp has his own ritual when he meets somebody in the business world.
The retired hockey player, now director of strategic relationships at Wolf Commercial Real Estate in South Jersey, gets a picture taken with the person.
"When I meet other people I get their business card and take a picture with them and put it on my phone and write a note about who they are and when and where I met them," Propp said. "It might be two or three years before I reach out to the person again, but being able to see their face — it helps you remember how and when you met them."
Networking has played an important role in the last two stops on Propp's post-playing career — Wolf Commercial Real Estate and The Judge Group, a professional services company where he spent four years as vice president for strategic account management.
Propp played in the National Hockey League for 16 seasons, 11 of which were spent with the Flyers. He didn't spend a lot of time planning for what would come next.
"When you are young you just want to play the game," Propp said, "but I was always good with business. I'm very organized and I know how to make the right connections and stay in front of people."
He didn't get out of the hockey business completely.
His first post-playing career job was helping develop and serving as COO of the Medford Ice Rink in South Jersey. He left after four years for a radio color analyst job for Flyers games, a job he held up until August 2008 when the team "decided to go in another direction."
Hockey is still part of Propp's life. He serves as a Flyers ambassador greeting fans at home games and plays in a pick-up game two days a week in Voorhees.
Among the lessons he learned in hockey that have transferred into the business world, he said, are how to be a leader. "I learned a lot about leadership from Bob Clarke and the Flyers alumni," Propp said. "The first three years I was really quiet. I didn't have to talk because you had Clarke and Bill Barber and Reggie Leach doing the talking. "
Two other traits he said that are important for athletes as well as business people are staying positive and perfecting your craft.
"One of the reasons Bob Clarke was so successful was because he practiced as hard as he played and led by example," he said.
Propp learned about overcoming adversity in 2015 when he suffered a stroke.
"At the start it was a struggle," he said, describing his recovery. "It took me about a year-and-a-half to get better. I couldn't speak for a couple months. I had to re-learn how to talk with a speech therapist. That took a long time. I'm doing really well now. I do some occupational and physical therapy with Bancroft's brain injury people. I just started working with them as an ambassador a couple months ago."
When asked if he thinks about retirement, Propp responded quickly with a, "Oh hell no, no, no. I love staying busy and active. I'm 60, maybe I'll slow down at 70."
Sebastien Le Toux
Former professional soccer player Sebastien Le Toux spent the majority of his professional soccer career as a forward with the Philadelphia Union before retiring after the end of the 2017.
Since that time he has stayed connected with his sport as a part-time private coach and part-time broadcaster and ambassador for the Union, but he has also entered the business world.
Le Toux was hired by French homeopathic product manufacturer Boiron to promote its pain-relief products to other soccer players.
"I used a lot of the product when I played," he said. "Now when I visit teams I show players the products and explain how they can help them."
The 35-year-old native of France also has a job where he reports to work in the more traditional Monday through Friday schedule. Since retiring, Le Toux has helped his wife, Kendall Quigley, with her five-year-old home staging business called QA Designs in Philadelphia.
"What we do is stage old, empty houses to make them so they look nice when people interested in buying come and see them," he said.
The company does vacant home staging where furniture and decor is brought in to give potential buyers a better sense of how the space can be used. Le Toux said his role is to help his wife however he can. "She is the boss," he said. "I appreciate being able to help her."
LeToux said he could have gotten into youth coaching right away, but he prefers working with players individually and in small groups as a private coach with his company, Le Toux Soccer Development LLC.
"With youth coaching the programs would tell me what to teach and what to do," he said. "I like working with players on my own. When I was kid in France I had a coach who worked with me one-on-one and it really helped me move forward. It was something I wanted to do after I retired."
In all his roles, LeToux said the comfort he developed with being in the public spotlight as a professional athlete has helped him in the business world.
"I'm not shy around people," he said. "It's pretty easy for me to talk to people and let them know what I am doing."
Keith Primeau
For former Philadelphia Flyers Keith Primeau, retirement as a professional hockey player in 2006 came earlier than expected after he was unable to recover from a concussion and continue his playing career.
"The time of year where I miss it is mostly around the playoffs," Primeau said from his South Jersey home. "I was always realistic. I knew [playing in the National Hockey League] was only going to be part of my life. I grew up in a house where education was important and I knew I was going to have to be prepared to have something else to do after playing."
Primeau said he never aspired to get into broadcasting, although he did do some postgame commentary for what was then Comcast SportsNet.
"It wasn't my calling," he said.
Primeau said he had an interest in teaching components of the game, but he couldn't immediately explore that passion because he was still recovering from injuries after retiring.
"By the time I was ready to get back in the game I was so far removed, and I was conflicted," he said. "I like having the free time to pursue the ventures I got involved in. Getting back in the game would have been all-consuming."
Primeau said he has also had an entrepreneurial side. In his early 20s, while a member of the Detroit Red Wings, he had his own construction company.
After retiring, Primeau got involved in youth sports camps and the management side of the business with an American Hockey League team.
Since the summer of 2012, Primeau has been a part-owner and chief administrative officer at Rebox Corp., a Montreal company that buys and sells once-used corrugated boxes to more than 350 manufacturers in North America.
Primeau said he was presented with an opportunity to become a co-owner about a decade ago after meeting one of the company's principal owners, whose son Primeau was coaching in hockey.
"He said he liked the way I did business and they were in the process of buying out a partner and wanted to know if I'd be interested in acquiring his shares," Primeau recalled. "They built a very good business from the ground up. I don't pretend to know a lot about boxes, but I am there to help with organizational structure and hiring and business development."
Primeau said the skills he picked up as a professional athlete that have translated well into the business include discipline, determination and leadership.
"I find it similar to the role I took as a captain for teams in the NHL," he said. "You guide the ship and help navigate the business as it grows and has success."
John George
Senior Reporter