Check out the article in Technical.ly on launching Wharton Sports Analytics and Business Initiative (WSABI).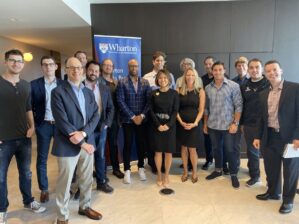 The new resource and research center for use by students and faculty was created out of a growing interest in sports betting, data and esports.
University of Pennsylvania announced this week that it was launching the Wharton Sports Analytics and Business Initiative (WSABI) for students and faculty interested in sports data.
The initiative, essentially a resource and research center for the business and data side of sports, will give students access to a range of programming and serve as a hub of activity for the Penn and area business communities.
Its newly appointed director, Michelle Young, said that it's a space where students across disciplines can come to learn more or get involved with programs in the sports business and data industries.
Currently the initiative is run by Young, a handful of students and a marketing and communications professional, but Young said she's hoping the staff expands.
"My background is in higher education and sports, but really we're looking for anyone who's a smart, business-minded person to grow our analytics side," Young said.
Wharton has more than 20 research centers that can serve as a place for students or faculty in other programs to learn more about specific industries. WSABI will be part of Analytics at Wharton and is supported by alumni and philanthropists Julie Moelis and Ken Moelis.
WSABI's programing will offer students access to the Penn Sports Research Group, the annual Wharton Sports Business Summit, the WSABI University Network and industry partnerships with professional sports teams.
"The Wharton Sports Analytics and Business Initiative will give the leading minds involved in sports — from students to owners to 'Moneyball' type data scientists — a ringside seat to better examine the future of sports," Wharton Dean Geoff Garrett said in a statement.
The initiative was developed after success in the school's Wharton Sports Business Initiative, and a recent interest by students in the sports industry's focus on analytics, sports betting and esports. 
"We learned that there were groups of undergraduate students who were meeting on their own to do projects and complete research in this field, and realized it was time," Young said of the formation of the initiative.
The WSABI launched Wednesday and is now available for students and faculty to access.