Check out this article in Bleacher Report on four of the different sessions at the Wharton Sports Business Summit, including those by Annie Duke, Michael Lombardi, a group of Eric Eager, Josh Hermsmeyer Sean O'Leary, and Aaron Schatz, and Andrew Brandt.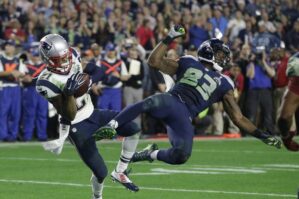 Gridiron Digest took a field trip to the Wharton Sports Business Summit at the University of Pennsylvania on Friday to learn what insights NFL experts had to offer the next generation of business leaders.
One theme kept recurring throughout the day of seminars and panel discussions: NFL coaches make less-than-optimal decisions all the time, for a variety of fascinating reasons.
Here's what we learned about why.
Poker principles
Author and former professional poker champion Annie Duke's "Thinking in Bets" presentation applied the probabilistic logic and decision structure of poker to other avenues of life, including football coaching. Duke used the fateful interception at the end of Super Bowl XLIX, and the polarized reactions to it, to explain why coaches (and other high-pressure decision-makers) play things safe to a fault:
"When you win by handing off to Marshawn Lynch, it's like: 'Good job!'" Duke explained. "If you lose by handing off to Marshawn Lynch, it's like, 'Bad luck, what can you do?' But when you win by passing, you are now a genius [Duke cites the Philly Special as an example]…but if you lose that way, you are called an idiot.
"When you fail in the usual way, we recognize uncertainty in the relationship between outcome quality and decision quality."
Coaches are only human, and they would rather hear "tough luck" than "you're an idiot," whether the message is coming from talk radio or the team owner.
The politics of coaching
Former NFL scout and executive and current analyst for The Athletic, Michael Lombardi shared tips and leadership advice from a 30-plus-year career working with everyone from Bill Walsh to Bill Belichick, including his RoMPS leadership model: command of the room, message, process and self.
Lombardi believes that most NFL coaches only have command of two of those four critical attributes, so Gridiron Digest asked him to reveal which ones they lack.
"The NFL's not about being selected to become a head coach." Lombardi said. "You have to be elected." Because assistants and coordinators don't want to tick off influential players, "coaches shy away from command of the process, and they shy away from being demanding." And coaches, like the rest of us, are often not very honest with themselves, Lombardi added.
As a Gridiron Digest class exercise: Can you name any failing head coaches who got their jobs because of a high-profile endorsement from an influential player?
Black-and-white thinking
Bickering brainiacs of analytics Eric Eager (Pro Football Focus), Josh Hermsmeyer (FiveThirtyEight), Sean O'Leary (EdjAnalytics) and Aaron Schatz (Football Outsiders) tackled everything from in-game decision-making to the running-backs-don't-matter phenomenon in their "State of Football Analytics" panel discussion.
Schatz explained why relatively basic analytics principles like going for it more often on fourth down remain controversial in the coaching community. "We think of things very probabilistically," he said. "But coaches think of things much more in black and white. When going for it on fourth down, they don't think of it in terms of a play that will work 55 percent of the time. To them, they either have a play that will work or they don't. And trying to translate that to coaches is very difficult.
O'Leary has learned that young rising-star coordinators often embrace analytics until they suddenly become the ones making the biggest decisions.
"They would sit in the room with us and say, 'I want to buy it. I want to use it,'" O'Leary said. "'But I'm not going to do everything that I know is the right thing to do, because it's going to be controversial and I'm a first-year head coach. I can't stick my neck out there like that.'"
Sounds like a phenomenon that Annie Duke can easily explain.
Aggression and caution
Finally, sports law professor and former Packers executive Andrew Brandt told the story of his role in that organization's decision to draft Aaron Rodgers in 2005.
Every other player with a first-round grade on the Packers board was selected ahead of their pick in the first round that day, including DeMarcus Ware and Derrick Johnson. The coaching staff and upper management were divided on selecting Rodgers, despite his being the last player on their board with a first-round grade.
"Half of my time at the organization was spent being the voice of aggression to the business side…and the other half was being the voice of caution to the football side," Brandt explained, so it was his job to mediate between the two sides in the hallway outside the Packers war room.
Brandt acknowledged to the coaches that selecting Rodgers would anger Brett Favre and his agent, as well as Rodgers and his agent, and that he would not help that team right away. "Then I looked at my coaches and said, 'Having said all that, we should take him. Because an organization has to stand for something. And what we stand for is scouting. We trust our scouting.'"
As a compromise, Packers execs agreed to listen to any preselection trade offers. The phones did not ring. Any team with a reasonable trade offer could have selected Aaron Rodgers in 2005.
But shortsightedness, play-it-safe reasoning, an unwillingness to anger superstars and no sense of how to play the percentages are the motivators of many bad decisions in the NFL.