Wharton Sports Analytics and Business Initiative
HBO Host Bomani Jones Weighs in on Gender, Economics, and More in Return of Wharton's Race and Sports Series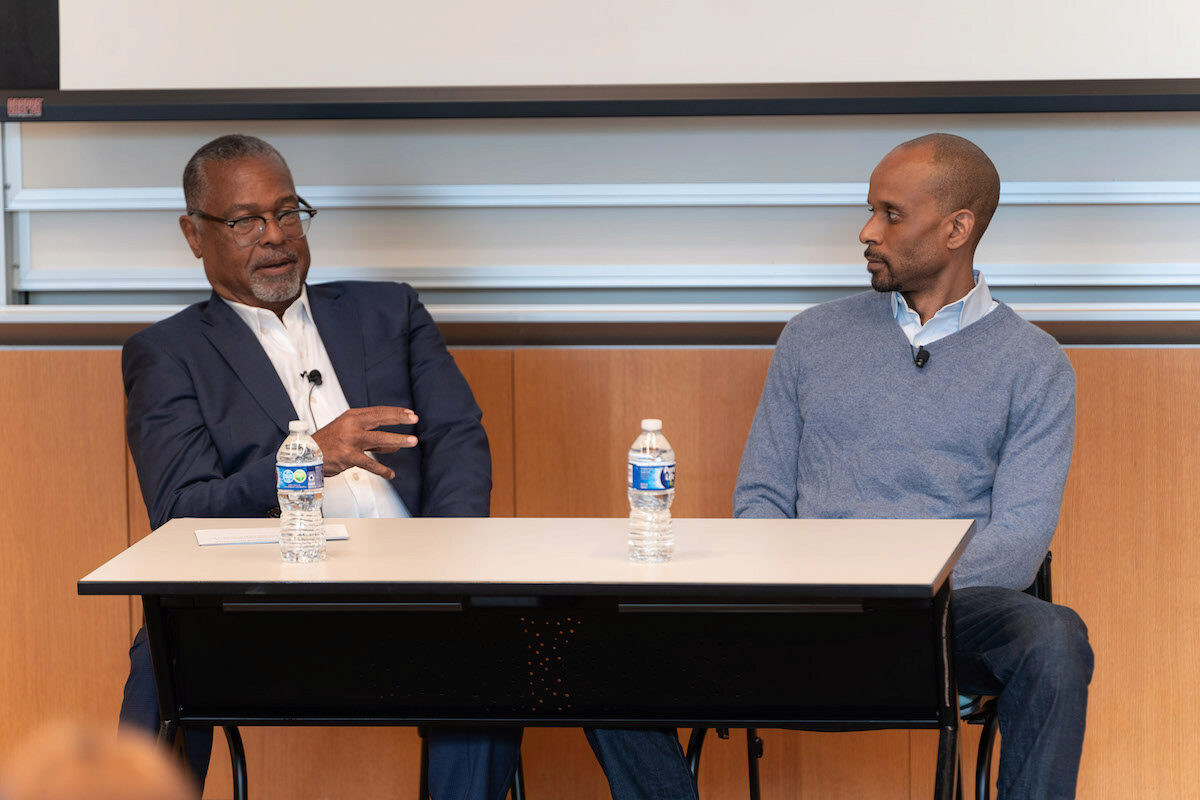 Thanks to a partnership between the University of Pennsylvania's Center for Africana Studies, the Wharton Coalition for Equity and Opportunity (Wharton CEO), and the Wharton Sports Analytics Business Initiative (WSABI), the 2023 Race and Sports event returned on Thursday, April 27 during the Penn Relays weekend. This year's event was especially meaningful as it marked the first successful return of the event since 2019. Attendees welcomed "Game Theory" host and long-time sports media analyst Bomani Jones for a conversation on race and sports.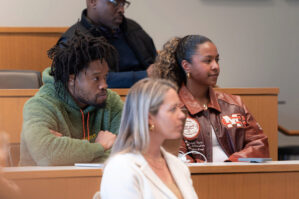 Students and members of the Penn community gathered on the second floor of Hunstman Hall for a wide-ranging and free-flowing conversation, moderated by Kenneth Shropshire, the David W. Hauck professor emeritus at the Wharton School, emeritus professor of Africana Studies, and senior advisor to the dean for Wharton CEO. Jones, whose sports media presence spans decades and several media outlets, spoke at length on gender dynamics in sports, the difficult path ahead for Black sports owners, the value of agent representation, and more over the course of 90 minutes.
Shropshire opened their discussion with an examination of the outsized role sports seem to play in our society, and how we arrived at such a cultural concern with games. Jones opined that both individual and team sports strive towards ideals of sacrifice, progress, and self-improvement – aspects of sports that "for reasons both noble and sinister serve the society at large and the people on top of that society that would really like you to work hard."
Jones further connected the prevalence of sports across culture to our relationship with gender.
"Sports have historically been a celebration of traditional ideas of masculinity," he said. "We can argue about the health of that, what's good and what's bad about that. But anything that's going to put forth the idea of the goodness of man, that is what people look for in sports. I think what people expect from it is that sports would be reflective of something larger and something better, because it then gives us the impression that we ourselves are better."
The pair also explored the changing attitudes towards women's sports – particularly the 2023 NCAA March Madness tournament, which featured big personalities, dramatic games, and high-level basketball. For many, Jones included, this year's women's tournament was a superior product to the men's tournament, and – with the opportunity for college athletes to now profit from their name, image, and likeness – resulted in significant financial opportunities for several young women.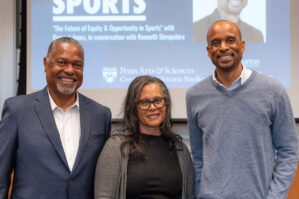 Jones and audience members went on to discuss the disparity between Black representation on the field and in the owner's box. Jones believes statistically meaningful Black ownership in sports "is not going to happen anytime soon," citing the steep liquidity requirements many sports leagues have in place for their owners, which often exceed $2.5 billion. "I think there are eight Black billionaires in America, and you know the names of six of them. Rihanna, Tyler Perry, LeBron James, Jay-Z, Doctor Dre…they have a billion."
After the session's formal conclusion, Jones spent additional time chatting with attendees and taking photos. Shortly after his departure, he took to Twitter to share some insights on the evening's NFL Draft to his nearly 600,000 followers, proving regardless of the venue or audience, Jones has valuable things to say – and he'll find a way to say them. "Game Theory with Bomani Jones" airs on Fridays at 11pm E.T. on HBO and HBO Max.
This event is the latest in a long list of high-profile events for the Wharton Sports Analytics and Business Initiative. This academic year, WSABI welcomed Wharton alumnus and Memphis Grizzlies head coach, Taylor Jenkins, W'07, Philadelphia 76ers forward Tobias Harris, and former Milwaukee Bucks co-owner Marc Lasry on campus to offer their unique professional insights.